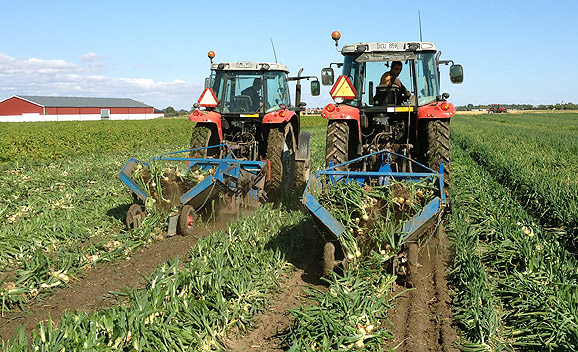 About Almhaga Grönsaker
Almhaga Vegetables AB are at Haga Farm, in Höllviken south of Malmö. Here we have lived since 2005, when we moved from Almhaga farm in Vellinge. On Almhaga Farm was agriculture carried out by the family Ralvert and together we have been on the market with our vegetables for over 40 years.
Today owned Almhaga Vegetables AB Mattias Pettersson and his family. Mattias received in 1997 employed by Bo Ralvert and the company developed together with Bo. The company grew and after a few years moved the business from Almhaga Farm. Mattias has since continued to develop agriculture and farm, and today we supply onions to the different parts of Sweden.
We grow mainly yellow and red onion on the beautiful farmland here Söderslätt. We love the onion and working carefully with our growing bulb fields. Because we think it's funny, we have tried to cultivate shallots. It gave fine buds as our next materialized experience is to try to grow garlic in Sweden. Besides these crops we grow conventional agricultural crops. With our plantations on Sweden's best agricultural land, we ensure that our customers always receive the best quality and the best price.
The cultivation is subordinate Green Production environmental and quality control, but has specialized into the onion to reach the highest quality and cost efficiency. We at Almhaga Vegetables AB cares about the environment, it is therefore natural for us to work continuously with certifications and improvements.
Learn more about our certifications on our website!
Work in the fields was formerly a hard and time consuming work. The onion was detached from the earth with a machine and hand picked up in wooden boxes that held 12-15 kg. The boxes were put in piles on the fields to dry before they were driven out and poured by hand into the harp.
We at Almhaga Vegetables are working hard on creating good flow of work and to streamline our operations. Harvesting has changed and today is not the same grueling needlework. We harvest the onions with a pickup in the fall. The onion is and wipe down the field and when it is dry enough we pick up the machine. We collect onion in large wooden boxes that accommodates about 750 kg onions. These boxes are stored onion in until it will be sorted, packaged and sold.
Our main focus in the harvest work is to manage the onion as gently as possible. To give the onions the best condition to prevent damage and to maintain the fine quality we bring up from the field. It is this quality, we want to offer our customers and consumers in the store! Healthy and delicious onions from the southern Swedish soil.
A product you can trust!
About us
Address:
Almhaga Grönsaker AB
Skegrievägen 140
236 91 Höllviken, Sweden
Phone:
+46 410-33 08 71
Fax:
+46 410-33 08 70
E-mail:
order@almhaga.se
Org.nr:
556606-4480